A Letter From The Owners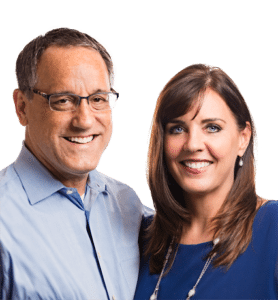 We are John and Lynn Fisher, owners of Fisher Precious Metals. In 1993 we started buying gold and silver as individual investors just like you. It took years to discern how to buy precious metals wisely in the myriad of marketing messages. We made mistakes in the early years, some of which were costly to unravel.
Over two decades later that cumulative experience is what helps us and our team to give you the very best one-on-one advice available in the industry. The precious metals industry is the 'Wild West' of investing with little or no regulatory oversight.  While lack of government oversight supports privacy, it also creates an investment landscape rife with unscrupulous individuals and firms.
We have established ourselves as a trusted dealer and partner over the last decade within the precious metals industry.  John is the Vice Chair of the Industry Council for Tangible Assets, the national precious metals watchdog organization.  For over a decade, he has worked with the members of Kingdom Advisors, a network of Christian financial advisors, to aid their clients in precious metals investing.  John has also been approved to teach Continuing Education courses on precious metals for CPAs, Certified Financial Planners and Investment Advisors in the state of Florida.  Finally, we are accredited members of the following national organizations such as PNG, NGC, PCGS, ANA and GIA.
With our firm you will never experience the fear and greed sales tactics often deployed within our industry.  Our personal pledge is to advise everyone in the same manner we would a member of our own family in the same situation.  Sometimes that means declining a sale in the better interest of the client.
What can you expect when you call us?  You can speak directly to us, the owners, within 48 hours, if not immediately.  Everyone in our firm has a personal position in precious metals, it is a requirement to work for us.  Finally, you will never interact with a commissioned sales executive.  We refuse to compensate our Bullion Traders in any way that would incent them to potentially sell a client a product that is in the best interest of the trader and not the client.
One of the most important questions you need to ask yourself is whether or not having a relationship with an adviser and expert in the field is important you.  The precious metals business is an extremely low margin business.  The pricing is all very close from dealer to dealer.  You can buy from an inexperienced call center representative, or you can have a team you can call anytime to discuss your investments without experiencing any pressure to buy.
There will come a day when knowing someone who understands the market is the most important criteria in a dealer.  We have faced significant inventory shortages in the past and will again in the future.  You will need to deal with a preferred dealer such as ourselves in order to buy during these shortages.
Finally, we believe that in 95% of all cases our clients are best served by purchasing low premium bullion coins and bars from reputable mints such as the United States Mint, Royal Canadian Mint, Perth Mint etc.  These coins and bars are a highly liquid form of precious metals that will benefit our clients, should they ever need to actually use it if turmoil should arise.  If not, we will arm you with an exit strategy to maximize the profitability of your investment. If you or anyone you know is interested in purchasing or selling physical silver, gold, platinum or palladium please contact us. Your interest and investment will be handled with absolute confidentiality.
You can email us directly at: Info@FisherPM.com.
Best Regards,
John and Lynn Fisher