Precious Metals IRAs and 401k's
Thinking about investing physical gold or silver in an IRA?  Let us start by warning you about all of the less than ethical Precious Metals IRA offerings and sales tactics in the market.  Avoid them at all costs!
You should NOT pay any additional premium (amount per coin/bar over the spot price) for your IRA metals, than you would if you were making an ordinary purchase of precious metals.
You do NOT need to pay extra for proof coins in your Precious Metals IRA – you simply pay more for your metals
You should NOT execute a home storage IRA or an LLC IRA – a home safe does not meet the IRS storage requirements!
If a dealer's marketing materials makes promises about precious metals returns – run the other way!
If a dealer's marketing materials use any form of fear mongering or scare tactics, do not do business with them!
If a dealer has not been in business for a lengthy period of time, they are likely jumping in to the bull market to sell you an overpriced precious metals IRA from a commissioned call center representative.
We are a 5 Star Client Rated National Dealer, and we have helped clients for over a decade to establish and transition in to sound precious metals IRAs.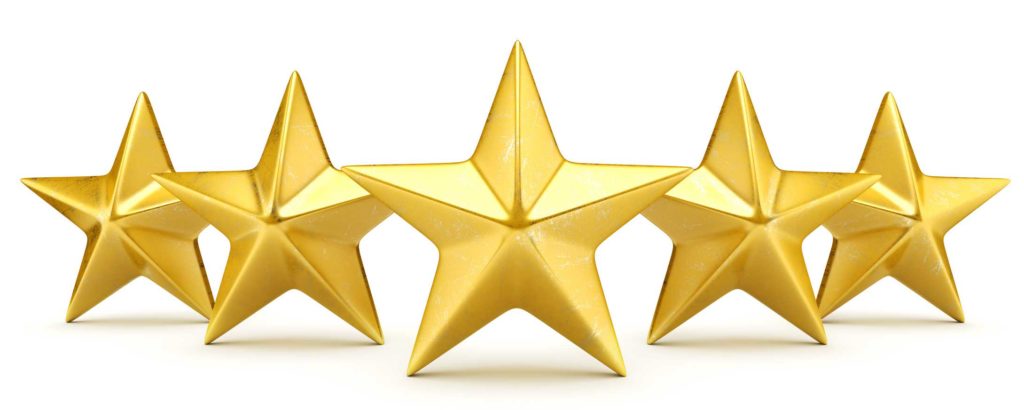 Our Preferred IRA Custodian Partner   
While we can work with absolutely any IRA custodian in the US, we have over 10 years of experience under our belt and we know who treats our clients with the best level of service in the industry.  As a result we recommend New Direction IRA as our preferred IRA custodian.
We have h

ad a longstanding relationship with NDIRA and we hold our own precious metals IRA with them!
A Dedicated Precious Metals IRA Site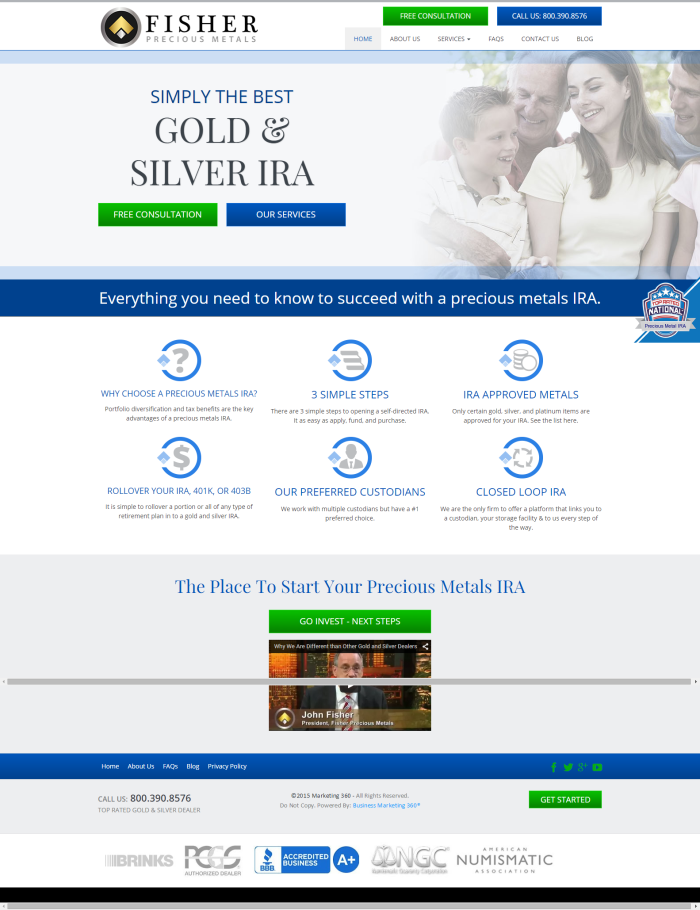 Simply click on the image to the left to be directed to our IRA site.  
If you have any questions about gold and silver  IRA rules, or if you want to learn more about opening a precious metals IRA, also feel free to contact us at 1-800-390-8576. We would love to share our wealth of knowledge and get you started on your own gold/silver IRA.
Please be careful about Gold IRA company reviews.
 There are a number of affiliate programs that pay individuals to post paid for reviews of their company, whether or not they have done business with them or even own their own self-directed precious metals IRA.  
Here
is an article that explains this less than authentic marketing approach.
Finally, a precious metals dealer should not make any more money on the gold or silver they sell you for your IRA, than they would if you had walked in to their office to purchase it and take it home.  We don't make money on depository storage, we don't take a kick-back from a custodian, we simply advise you on the best low premium metals for your IRA, sell them to you and ship to your chosen depository for IRA storage.
IRA Depository Partners
We offer U.S., Canadian and Offshore Cayman Islands IRA depository storage.
| | | |
| --- | --- | --- |
| IDS Delaware | IDS Canada –  Toronto | SWP – Grand Cayman |
| IDS's highly-secure facilities are state-of-the-art and equipped with UL-rated, multi-redundant security systems monitored in real-time, 24/7 by off-site security specialists. One of the great things about IDS is that all of your assets are held in "custody", specifically, they are stored in client-specific accounts, off of IDS's balance sheet. | IDS of Canada is North America's newest and most technologically advanced precious metals depository. Strategically located in Canada's business capital, with headquarters in the Greater Toronto area, it is Canada's first full-service LBMA and IIROC-approved precious metals depository. | Strategic Wealth Preservation is a new purpose-built precious metals storage facility with fully allocated, segregated and insured secure storage located in the Cayman Islands. Independently owned and privately operated, clients retain direct and complete legal ownership of their precious metal holdings while they are in the facility. |
| | | |
FAQ's
What is a "self-directed" IRA?
The term "self-directed" simply means that you, the individual, has complete control over selecting and directing your individual retirement account investments. You are empowered to make all of the decisions regarding your investments within the self-directed IRA.
Self-directed IRAs offer a multitude of alternative investments for retirement savings such as precious metals IRAs, real estate, horses, oil and gas LPs, private mortgages, private company stock, and intellectual property.
There are four parties involved with a precious metals IRA.  These four parties are you, the precious metals dealer, the IRA custodian/administrator and the precious metals depository.
What criteria is used for precious metals IRA products?
All products involved with precious metals IRAs must meet minimum fineness requirements as set by the IRS.  Please note that the Gold American Eagle is the only exception.
Gold: .995 fine
Silver: .999 fine
Platinum: .9995 fine
Palladium: .9995 fine
Any products falling outside of these ranges, excluding American Gold Eagles, are not approved for precious metals IRAs. A few examples of non-approved precious metals products include Krugerrands, 90% silver and any collectible, graded or certified coins.  Click here for a complete list of IRA approved precious metals.
Is there a minimum amount required to open a precious metals IRA?
We are one of the few national dealers that has no minimum requirement for our precious metals IRA.  That being said, we recommend that you allow us to help you assess the start-up costs and annual custodian fees in order to determine what minimum investment will profitably offset the custodian fee structure. We'll make sure that you get the best precious metals IRA that meets your needs.
Can I add or contribute coins or bullion that I already own to my precious metals IRA?
No. Except in the case of transfers or rollovers all contributions must be made in cash.  The physical precious metals that you select for your precious metals IRA will be shipped directly to the depository and maintained there on behalf of your IRA account.
Can I transfer money from an existing IRA account to fund my Precious Metal IRA, and if I do so, will I incur any tax penalty?
Yes. If you have an existing IRA or 401(k), the simplest way to set up a new Precious Metal IRA is via a metal (i.e. gold IRA) transfer. You would simply transfer the amount you want to invest in the new IRA.  There will not be any tax penalties for a transfer.  The IRA custodian is an expert in transfers and will assist you in facilitating this process.
What types of IRAs are eligible to transfer or roll over?
All IRAs, including Traditional, Roth, SEP, SIMPLE and Solo are eligible for direct rollover.  Please inquire with your IRA custodian for specific plan details or any plan limitations.
Can I open a new IRA with a contribution?
Yes, you can open a new IRA with a contribution.  Your annual contribution limit will remain the same.
Who holds the precious metals?
You will select an IRS approved precious metals custodian that will manage your physical precious metals at a designated depository in Delaware, Canada or Grand Cayman.  You will also select which of the three approved depositories you would like your precious metals stored at.  At your direction, an IRS-approved precious metals custodian manages your physical precious metals.  The custodian will provide you with consistent reporting on your precious metals IRA and earnings.
Do you offer Home Storage IRAs or Checkbook IRAs?
No, no and no.  Please read our article, "Beware of Home Storage IRAs" to equip and protect yourself and your retirement savings.
Precious Metals ETFs vs. Precious Metals IRAs
A precious metals ETF is best suited for investors and traders that desire to move in and out of markets quickly.  ETFs are a paper instrument with counterparty risks, and do not allow you to take physical possession of your gold and silver.  On the other hand, owning physical precious metals is better suited to individuals that want to buy gold and silver and hold it longer term.  If you own the physical precious metals within your self-directed IRA,  you always have the option of taking physical possession of the actual gold and silver.
*Please make your own decision regarding which IRA custodian with whom you choose to work. Please consult your trusted tax adviser before making any decisions. Fisher Precious Metals does not offer tax advice.