24k Gold Bullion Jewelry – Classic Design that Provides Portability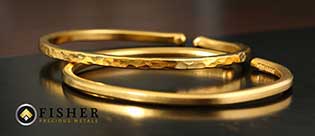 Our first venture in to 24k Gold bullion jewelry, often termed "bullion grade jewelry" due to its 999.9 fine gold content, is a bangle bracelet available in both a classic smooth finish or a hammered finish. These bracelets can be worn as a store of wealth, easily transported during travel, a perfect gift providing long-lasting value.
These Gold bullion bangles contain one ounce of 24 kt gold and are a pleasure for any woman to wear.  This 24k Gold Bullion Jewelry is classic in design and also comes with a "Lifetime Renewal" guarantee, which means that for the life of the product, our refiner will refinish, reshape and restore your bracelet to its original style and beauty.
24k Bullion Jewelry Features:
Available in 2 styles
Hammered Finish
Smooth Finish
1 troy ounce
999.9 fine Gold
Sealed in a tamper-evident package for security
Manufactured in the United States