How to Choose the Best Gold and Silver Dealer
Knowing how to choose the best gold dealer can be an overwhelming process.  There are hundreds of gold and silver dealers, from large online dealers with call center representatives to your local coin shop.  How do you know that you are dealing with a company that will provide you with sound advice, competitive pricing, timely shipping and the willingness to go the extra mile in a commodity industry?
Due Diligence – Reputation:
Reputation is key when dealing with and buying from a precious metals dealer. Make sure the firm that you choose to sell your gold and silver to has a great reputation as well.
When considering a bullion dealer, you should check sites like Yelp, Yahoo, Google Pages, YellowPages.com, or other local review sites.
Before you do business with any dealer, make sure you do at least some of the following Google searches:
-(Company Name) review
-(Company Name) scam
-(Company Name) experience
When doing these searches, you are looking for genuine reviews of the companies. Unfortunately, some companies will pay marketers to go out and post overly positive reviews for their company or to post negative reviews about their competitors. So you really need to use your discerning eye and pick out the reviews that seem to be genuine, written from the "person on the street" perspective. Take all reviews with a grain of salt, of course.
Experience:
This is a big one.  Nothing is more valuable than talking with a seasoned precious metals investor that has a solid understanding of the market, and the products that match your specific investing objectives.  Here is the gamut of "experience" you will encounter in our industry.
Inside Sales/Pre-Sales – These folks are typically making minimum wage (or close to it) and they likely have never even owned a single silver coin.  You likely provided your information for a free report online or you called in after seeing a tv or radio advertisement and they call within about 15-30 minutes of receiving your contact information.  They are typically trained to interact from a script when you call, and have limited (if any) knowledge of the precious metals markets.
The Closers – These are typically seasoned phone salespeople that are recruited out of oil, energy and margin sales environments.  They are accustomed to "going in for the kill" and being measured on their 200 calls per day closing ratio.  Many firms have the Inside Sales Rep. warm you up, only to send you on to The Closer.   These are not experienced precious metals investors either, they are just seasoned in scare tactics and closing methodolgies.
The Professionals – Not all gold and silver dealers are sweat shop, dial for dollars firms.  There are reputable firms with seasoned precious metals investors such as ourselves.  These are  the people that have the experience to honestly answer your myriad of questions, and help you source the right low premium/high liquidity gold and silver coins and bars you need.  They should also offer expertise on how to store your metals safely, gold IRAs, precious metals authentication, and precious metals appraisals.  If you find a firm that is not willing to take the time to educate you on all of the aforementioned aspects of precious metals, simply move on.
BBB Ratings:
To research a dealership, look up its BBB (Better Business Bureau) rating.   When you look at the BBB ratings, don't just focus on the company's overall rating. Although that's a good place to start, you also need to look at the Complaint Closing Statistics and any comments left by past or current clients.  A company can improve their grade rating over time by resolving consmer complaints, but do you really want to have to go through the process of filing a complaint with the BBB in order to gain resolution?  Look for a precious metals firm with little or no BBB complaints.  We are proud to have zero BBB complaints and a host of positive client reviews!
Internet Reviews:
You need to take some time to weed through reviews on the internet for good reason.  Many precious metals firms pay review companies to call and solicit "reviews" from their clients (Note:  Your personal contact information was just provided to a third party that was notified that you bought precious metals AND your information now resides in their call center.)  If you see a high number of reviews and they are 1, 2 or 3 word reviews like "great transaction", "good service", "satisfied" etc., you know that the precious metals company is using that tactic.  If you find reviews that are specific, lengthier and clearly written by real people that can speak to their specific experience with the company, then those are typically genuine reviews.
Some specific dealer review sites are hosted by third parties, but a dealer can pay a monthly fee to be displayed prominently at the top of their site, or for the ability to scrub their negative reviews.  You can usually discern one of these sites if there is a carousel at the top of the homepage that displays a few select dealers.
Worse yet, there are gold and silver companies that host their own dealer review sites, and are not transparent about their site ownership.  As a result the site does not display independent reviews, instead they use the site to silently promote their firm and to capture competive client information when individuals post a review.  Grrrrr.
Finally, there are gold and silver companies that pay significant affiliate fees for "reviews"in the Gold IRA arena.  These affiliate sites are hosting illegitimate reviews in order to get you to click through to the gold and silver company and to purchase IRA metals through them.  Read more about the Gold IRA review scam here.
Client References:
Ask a dealer to provide a minimum of three client references. Keep in mind that due to the private nature of gold and silver ownership many of our clients feel strongly about remaining anonymous. That is actually a benefit to you as a prospective client because many of our "best" clients won't come forth and you will actually end up talking to some of our less familiar clients. Take time to talk with the references, the longer you speak with them the more information you will uncover. Ask specifics about the buying and/or selling process, customer service, trustworthiness of the dealer etc.
Uncover the Dealer's "Positioning":
Every dealer has a core set of beliefs about how to wisely invest in physical gold and silver. The difficulty lies in the fact that the moral core beliefs in wise investing don't often result in the most profitable position for the dealer. The bottom line is that there is more margin and money to be made for a dealer in rare, numismatic and European coins than there is in standard bullion coins and bars. While there is a place for numismatics (primarily for collectors and speculators), a trustworthy dealer will NEVER use scare tactics or sales tricks to "upsell" you from bullion to numismatics. Review their website before calling them – you will be able to clearly identify if they are "pushing" high margin items with no concern for your investing goals and strategies.  If they haven't been upfront on their website, you will know immediately when you call them and they try and talk you out of buying bullion.
Learn About Their Buy Back Policy
You need to think about the long term when buying precious metals, and not just the initial price. What is the dealer's Buy Back Policy, and will they clearly provide it in writing?
Almost every dealer on the internet has a "Buy Back" price listed. Here are few tricks of the trade. Did you know that there are dealers that list their buying price and actually do NOT buy ANY precious metals at all? This is because they are essentially resellers and don't own or hold their own inventory (this important when it comes to the next category of authentication as well.) One of the largest online retailers is a key example of this – starts with a "J".
Another slick approach is to list a Buy Back price and then put significant conditions in place that will minimize their actual payout when they have your items in hand. We videotape the opening of all precious metals that are mailed to us, so that we document the condition of the coins and bars to validate their grade.
All said, every dealer has to consider the condition of your coins and bars and take that in to account when it comes to what we can pay. Remember, we have to "make a market" for those coins and bars and put yourself in the buyer's shoes – do you want to pay full price for a scuffed up "scruffy" coin?
We will buy back any form of pure gold, silver, platinum or palladium at market competitive prices. You can see our entire Buy Back policy here.
Gold and Silver Authentication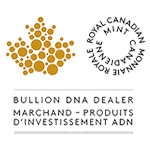 Last, and certainly not least, is the importance of knowing you are buying authentic gold and silver products, with no risk of counterfeits.  This has become increasingly important as the number of counterfeits are improving in quality and have also increased in quantity.  We provide multiple forms of digital, non-destructive gold and silver authentication.  First and foremost, we are a Bullion DNA Dealer for the Royal Canadian Mint.  The Bullion DNA technology provides you with visual authentication of the more recent Royal Canadian Mint Gold and Silver Maple Leaf coins.  We also utilize the Sigma Metalytics Precious Metals Verifier that allows us to measure the bulk metal in a bullion bar or coin and ensure that the metal matches the electrical characteristics that would be expected of it.   Any reputable dealer should be willing to test the products they are selling you in front of you.   We would also be happy to test any products (at no charge) that you have purchased prior to meeting us for your peace of mind.