2017 1 oz Gold Canadian Maple Leaf Coin
Priced as low as $50.49 over spot!
The 2017 1 oz Gold Maple Leaf Coin is our first choice in 1 oz gold coins! The 2017 1 oz Canadian Gold Maple Leaf was first minted in 1979, and finds favor with investors due to its pure .9999 gold content and historic maple leaf design.  Right now, the 2017 1 oz Canadian Gold Maple Leaf Coin is available from Fisher Precious Metals.  These Gold Maple Leafs are also available in bulk quantities when you buy a Canadian Gold Maple Leaf Monster Box that contains 500 one ounce coins.
We have a bias towards the 1 oz. Gold Maple Leaf, and we believe it to be well founded. These Gold Maple Leaf coins carry a lower premium than the 1 oz Gold Eagle coins, are a 24 karat coin (versus a 22 karat alloyed coin), have digital anti-counterfeiting technology, and they have even greater global liquidity.
Minted by the Royal Canadian Mint (RCM), the 2017 Gold Maple Leaf bullion coins are not only beautiful, but are also a great way to invest in Gold. The 1 ounce Gold Maple Leafs are recognized worldwide, and are especially famous for their .9999 to .99999 purity. These Gold coins are legal Canadian gold tender, guaranteed by the Canadian government for their accuracy in weight and purity.
The RCM produces beautiful Maple Leaf coins in Silver , Platinum, and Palladium, in addition to these Gold Maples.
The Maple Leafs are a great way to diversify your retirement savings within your Gold IRA. The 1 oz, 1/2 oz, 1/4 oz, 1/10 oz and 1/20 oz Gold Maple Leaf coins are IRA approved for your precious metals IRA.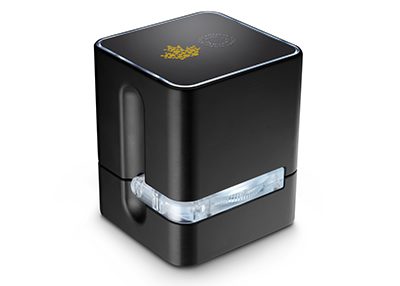 Bullion DNA:
Every 1 oz Gold Maple Leaf bullion coin dated 2014 and later as well as every Silver Maple Leaf bullion coin dated 2015 and later now features a unique anti-counterfeiting security mark. The Mint's digital non-destructive activation (DNA) technology, jointly developed by the Royal Canadian Mint and SignopticTM, captures images encrypted with a string of code, and stores these in the Mint's secure database. By using the proprietary hardware and software that make up the Bullion DNA anti-counterfeiting technology, we are able to facilitate the authentication of Gold and Silver Maple Leaf bullion coins.